More Historic Maps of the Fair Oaks Area
---
(Note: New 1930 Sacramento County map added 7/12/12 at end of this page). Original Hiram Grimes 1858 map of the San Juan Grant, partial 1868 County Map and 1965 County Proposed Freeway Maps added.
---
Over the past several years, I've occasionally stumbled on a few more maps of old Fair Oaks but haven't put them up for various reasons. But, they are interesting and useful, so I'll do a little narrative on each one. I'll leave them here for awhile and then weave them into the Old Maps series.
---
This is a copy of the orignal Hiram Grimes survey of the Rancho San Juan. I haven't tried to locate the boundries on a current map - most of the boundry markers are simply shown as "Post".
For a larger image, Click here
---
---
A partial copy of a 1868 County map contained in the Citrus Heights Arcadia book. The annotation says the map is courtesy of Sacramento Archives but they claim it didn't come from them. Decendants of Jim VanMaren, author of the book say they don't have it. We'd love to have the complete map so if anyone finds it, please let us know.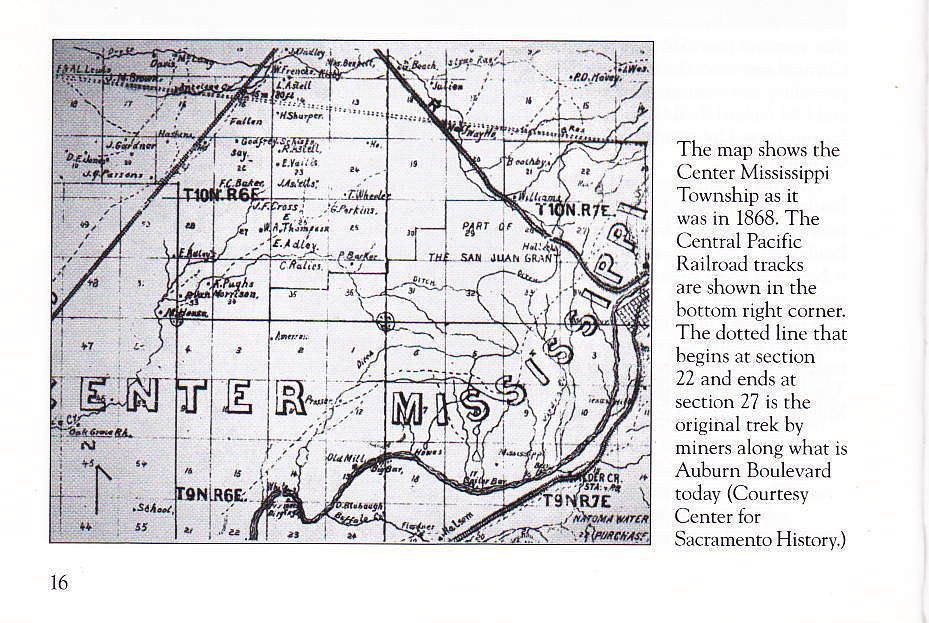 For a larger image, Click here
Another map that showed up recently is a 1965 County map showing the planned new freeway crossings in the county. The entire freeway project was scrapped by Jerry Brown when he was elected governor and replaced with light rail.
One leg of the proposed freeway would have gone through Fair Oaks, going across Sacramento Bar Park, through Waldorf School and then up and next to Fair Oaks Blvd.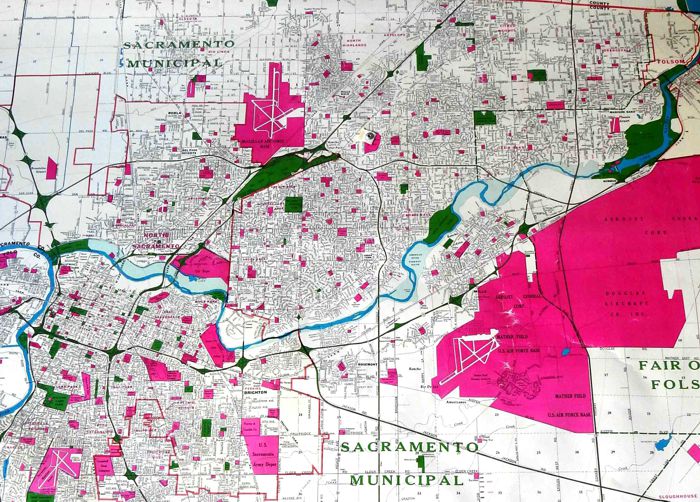 For a larger image, Click here
For an inset of the map showing the Village area, Click here
---
I usually cull out the Fair Oaks area from larger maps, but I realize that I occasionally leave out east Fair Oaks. The reason is that for USGS maps the boundry line for the Antelope quadrangle (Fair Oaks) and Folsom quadrangle is just east of Chicago Ave., and in the past we haven't had the Folsom quad. I discovered who had it (USGS Menlo Park) and they were nice enough to scan it along with the Mills quad to the south and mail me a CD. I pasted the three quads together digitally so now we have a full 1910 area map. Note the missing parts of the Folsom quad - the USGS quit surveying, probably because of military tensions leading to WW-I and didn't return to finish until 1944.

One interesting feature of this map is that it is the only map that shows the location of the Fair Oaks Reservoir above Mississippi Bar, which was the source of water for Fair Oaks for many years.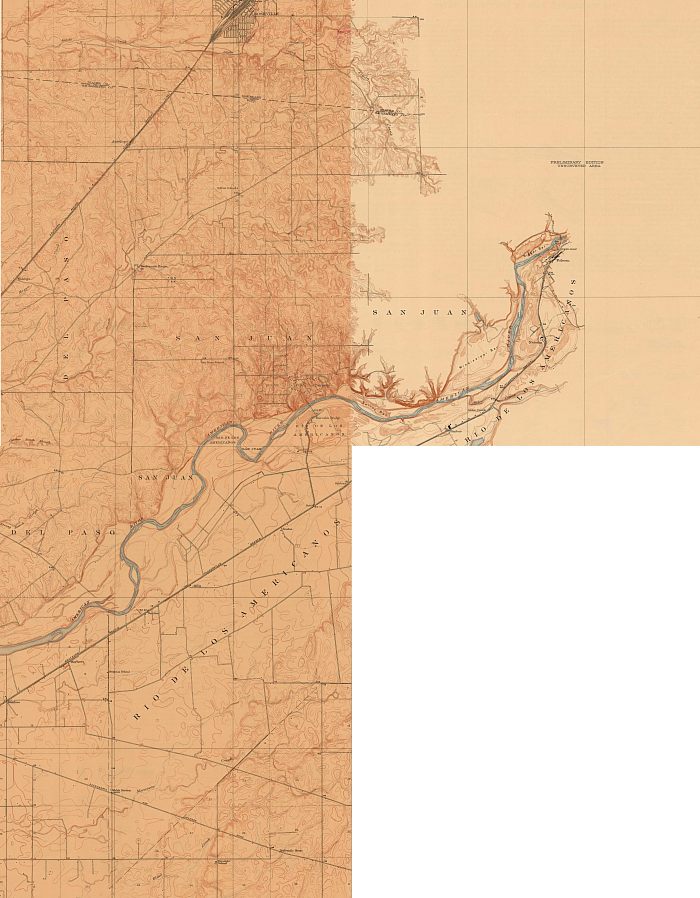 For a larger image, Click here
---
Speaking of the 1944 Folsom quad, here it is.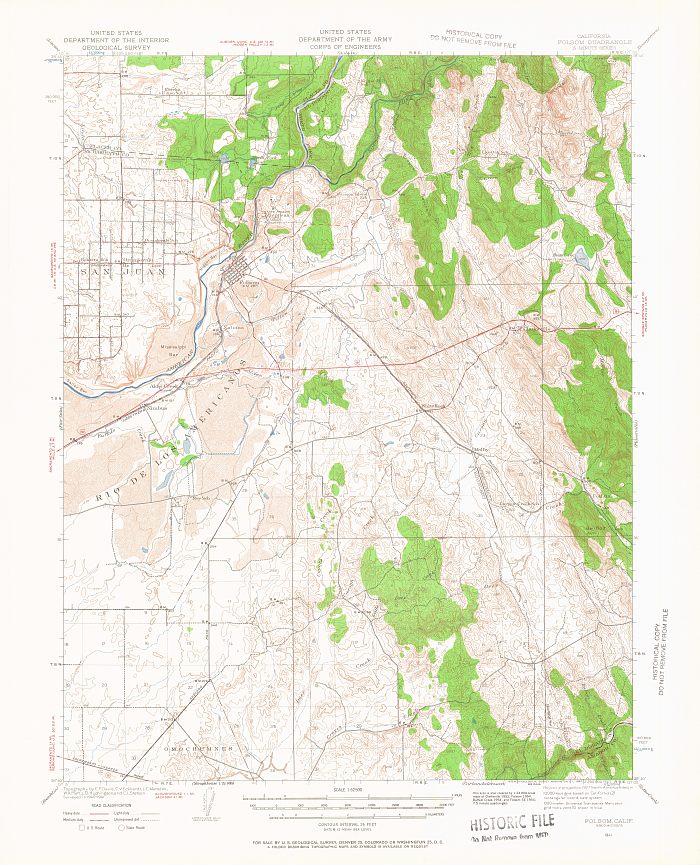 For a larger image, Click here
---
For the same reasons above, I didn't put up the Folsom quad for 1952, but in doing some research for the King family and the Miller Park Tennis Club, I realized the Folsom quad includes eastern Fair Oaks. So, here is that one.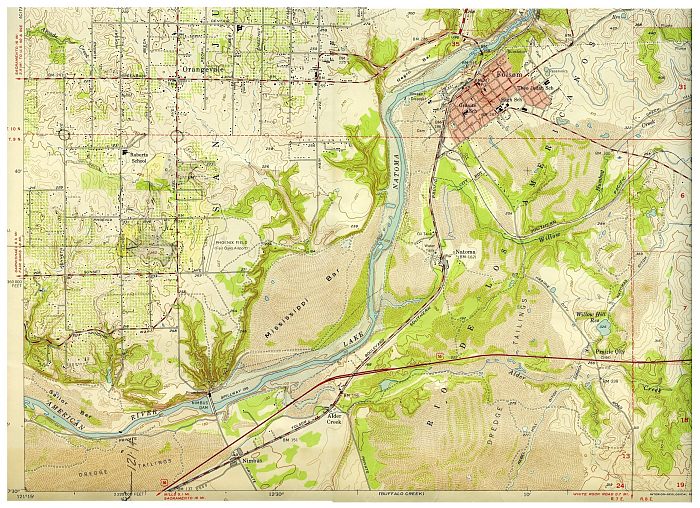 For a larger image, Click here
---
Because of its size, I couldn't scan the full 1903 property map of eastern Sacramento County, but in doing some research on Citrus Heights I decided to put it out on the driveway and photograph it. The resolution isn't as good, but it can be read.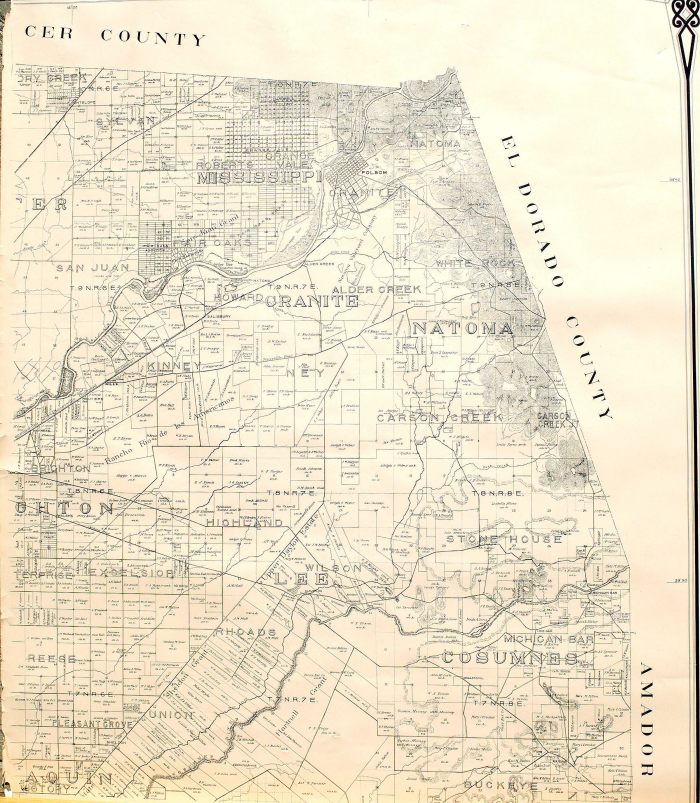 For a larger image, Click here
---
We've recently discovered several Sacramento County maps produced by the County Surveyor at different intervals. They show property ownership and the general lay of the land around Fair Oaks. First, a 1911 map that shows the growth of eastern Sacramento County and the fairly massive subdividing of land, particularly in the Carmichael Colony and the Natomas Area.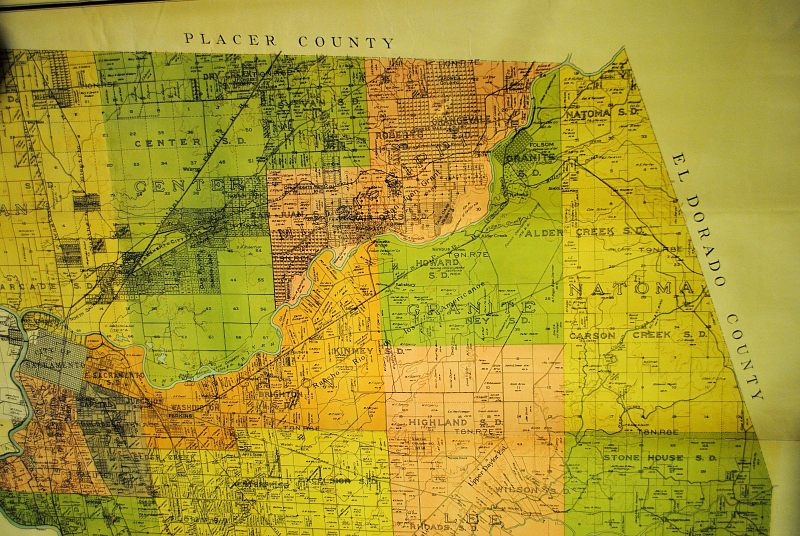 For a larger image, Click here
---
The next County Surveyors map is 1885, the earliest detail map of eastern Sacramento County we've found. Notice that Fair Oaks doesn't exist, and neither does Orangevale which was subdivided in 1887.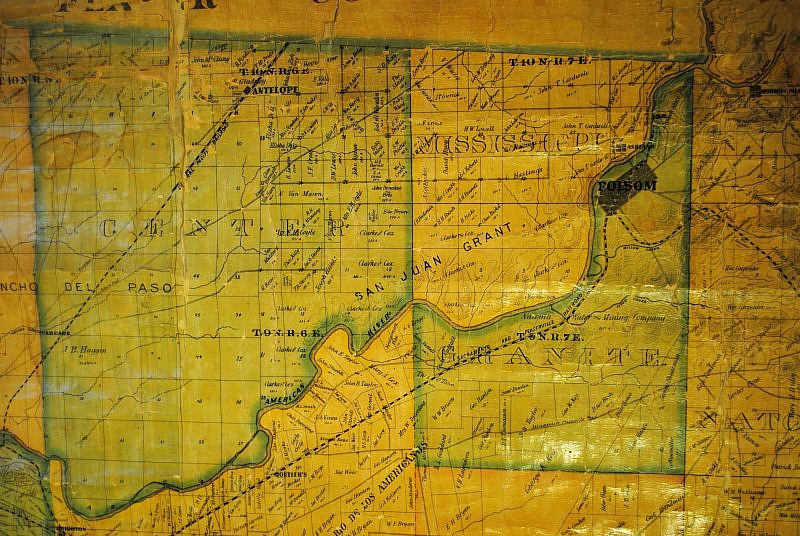 For a larger image, Click here
For a larger image of the entire map in better detail, Click here
---
A very interesting map of Fair Oaks Village circa 1946 created by the Fair Oaks Irrigation District. It lists a number of businesses and their locations which makes dating the map possible. Hinsey's market was built in 1941 and it shows on the map, so that establishes the lower date for the map. The Fair Oaks Feed and Fuel business on the north- east corner of Fair Oaks Blvd. and what would become Sunrise Blvd. isn't on the map, and it was built in 1947. There are probably other locations that would serve to pin-point the map date. If anyone spots one, let me know.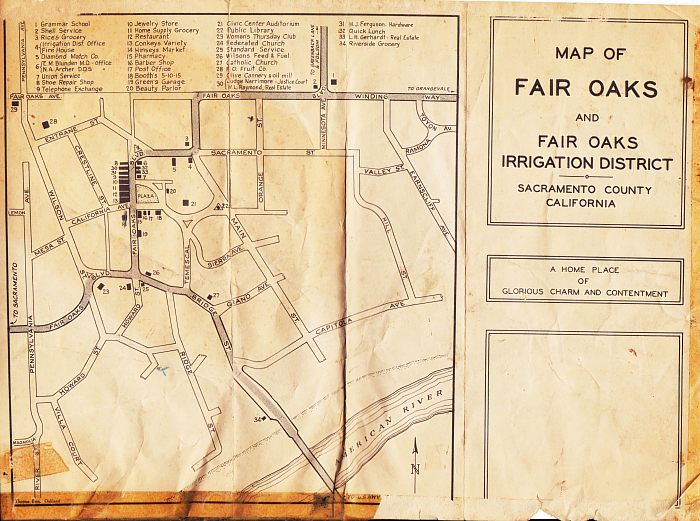 For a larger image, Click here
---
A recently discovered Sacramento County map which we date to about 1930. Two pieces of a copy of the map were found, but we haven't been able to locate the original.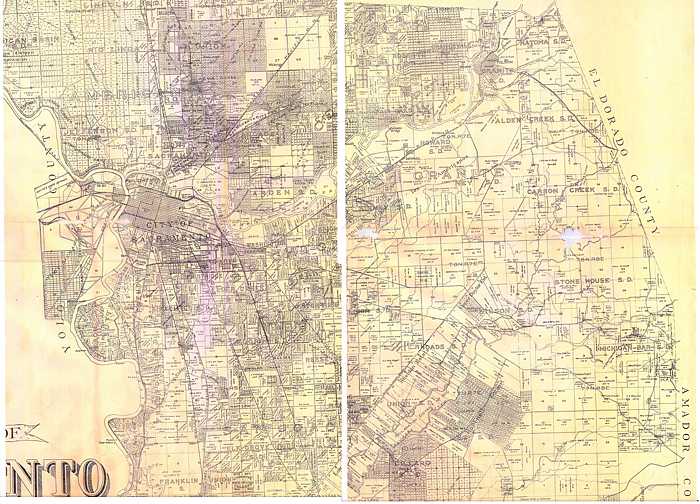 For a larger image, Click here
---
All for now.
Jim Pearce, Webmaster, FOHS