---
The History of Fair Oaks
by Steve Abbott
The history of Fair Oaks began long before its 1895 development as an agricultural colony. Native Americans, the Maidu, lived here for at least 10,000 years we are told. Approximately fifty years before the colony's beginning, our area was inhabited by the miners of Northern California's Gold Rush. And thereafter a few families settled in the areas we now call Citrus Heights, Orangevale, Carmichael, and Fair Oaks. The Van Marens, Barretts, Kellys, Muldrows, Heintzes, McMillans, Donahues, Coyles, Deweys, and John Vincent families established farms well before Fair Oaks was in the planning stage. But for this short introduction, we will confine ourselves to the commercial development of Fair Oaks.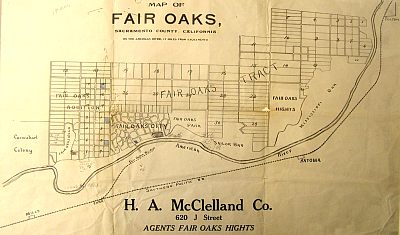 Fair Oaks, California had its beginnings, as did many California towns, as a speculative promotion whose eastern promoters had one thing in mind: profit. The Howard-Wilson Publishing Company of Chicago (Civil War General Charles Henry Howard and author James W. Wilson) published a biweekly newspaper "FARM, FIELD, and FIRESIDE" for rural communities. Additionally, the company dabbled in real estate ventures known as "Sunset Colonies" in Roseland, Louisiana, Los Angeles, California and Chadbourn, North Carolina . Since Howard-Wilson was in the publishing business, it was perfectly equipped to advertise and promote its far flung colony projects.
General Howard came to Northern California looking for land suitable for another Sunset Colony, and he found such a parcel in the San Juan Grant, a large tract dating to California's Mexican period. The land was owned by Fred Cox, President of California National Bank and Crawford Clark, owner of the North Fork Ditch, a diversion of water from and along the American River. The North Fork Ditch supplied much of the water needs for approximately twenty miles below Auburn, California.
Apparently, an agreement could not be reached over the sale of the land Howard-Wilson wanted because Clark would not sell the water rights. However an agreement was reached which gave Howard-Wilson the right to buy, advertise, and sell land in the Clark and Cox tract from the fall of 1895 to the fall of 1898 (It should be pointed out here that previous writers have stated that Howard-Wilson bought 6,000 acres from Clark and Cox. However, the land records show that Clark and Cox sold parcels in the subject area concurrently with Howard-Wilson. No records this writer has seen show a sale of 6,000 acres or anything close to it. Howard-Wilson bought lots one at a time from Clark and Cox, and then resold them).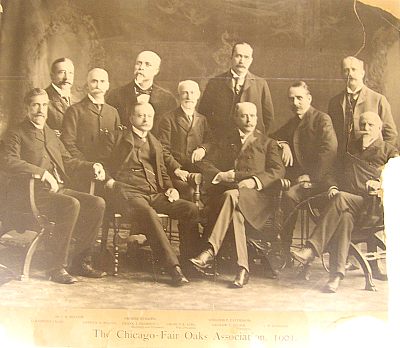 Howard-Wilson began advertising the Fair Oaks colony in its own newspaper as well as in "THE COSMOPOLITAN" and "McCLURES" magazines, and undoubtedly others. It acquired agents in Chicago, New York, London, San Francisco, Sacramento, and Los Angeles. The company christened its newest colony Fair Oaks, a name whose origin is a little murky. The most obvious reason for the name is that the hilly land was largely made up of an oak forest. But another version of the naming goes to the Civil War Battle of Fair Oaks in Virginia where both General Charles Henry Howard and his more famous brother General Oliver Otis Howard were wounded. When Charles Henry laid his eyes on the land of his newest colony, some say it reminded him the terrain and vegetation of Fair Oaks, Virginia, and he so named this new venture in honor of the locale of the famous battle. In terms of advertising, the name was not a fortuitous one, for the colony was advertised as an agricultural colony, primarily citrus, and the oak forest had to go. In fact the earliest business, a short lived one, was the selling of oak cord wood and oak charcoal.
Eastern and Mid-Western families soon read in the various newspapers, magazines, and advertising brochures that Fair Oaks was a demi-paradise just waiting for both the serious farmer and the gentlemen farmer to enter Eden and nearly effortlessly to make a good living or to retire without worry. The soil was fertile, the climate moderate, water was plentiful, an electric railroad was planned, and success awaited those who would step up and take a chance. Howard- Wilson would have orchards planted, tend them for three years, and supply a manager who would supervise the growth of the colony and take care of its day to day problems.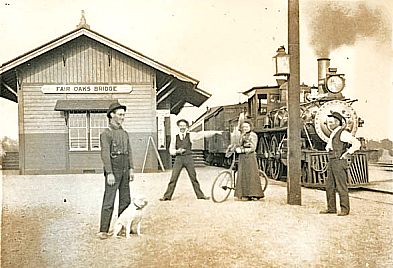 Excursion trains brought the prospective colonists from Chicago to Sacramento, Folsom, and then through the already producing orange groves in Orangevale, to the Fair Oaks bluffs. There they looked across the American River to the river bottom vineyards of the Natomas Company, the largest vineyard in the United States. And they looked down on the orchards of Pike and Kendall. In the distance they could see the snow capped Sierra. And, while it was late November, they were unbelievably comfortable in shirt sleeves. A huge bonfire was built for them the first evening, and they spent the evening either in the rude hotel that had been prepared for them or in tents. The following day, some went hunting. Some went exploring. And others chose lots which they proposed to turn into their dream farms, ranches, orchards, playgrounds, and retirement villas.
All seemed well, but taming Fair Oaks turned out to be a difficult project for many of the excited colonists. Land had to be purchased or financed. The fertile soil had to be cleared of the dense oak forest. A starter house had to be built. Furniture and household goods had to be bought. Horses and farm equipment had to be acquired and the cleared land had to be broken. Citrus, olive, and nut trees had to be shipped in, planted and cared for. Subsistence crops had to be planted and preserved for the colonists nutrition. And water? There was no water piped in for drinking, bathing, or keeping the newly planted vegetation alive. A colonist had to drive his horse and wagon either to the river for water or to an established farm with a well and beg for water.
Then the wait. The fruit trees took time to grow in order to be productive commercially. In many instances, the wait was years. And when the orchards matured and came into full production, there was no way to deliver the produce outside the local Fair Oaks market without driving horse and wagon across the bridges at Folsom and Sacramento to the rail heads. Then there were the hard negotiations between the producers, the wholesalers and the railroads, which would take their citrus products to the eastern markets.
Some of the colonists who were hard working and skilled farmers before they came to Fair Oaks survived, and many did not. Their names disappeared from Sacramento County business directories quickly. Some of the colonists were upper middle class people who had made their money in business and had sources of income other than farming. Some of these were able to look at their venture as business speculation and were able to hire others to do the hard, physical work. But those who were persuaded by the advertising that promised a paradise where physical hardships were unlikely and who were not prepared to work from dawn till dusk came to a disillusioned end.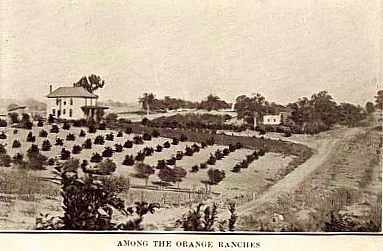 Yet some did survive, and they satisfied their physical and cultural needs in many ways. A few, like Leonard Shelton, came to Fair Oaks as merchants to supply the food, clothes, and hardware necessary to the rural family. Church services were held in a grange hall until the first church, the Pioneer Methodist Episcopal Church of Fair Oaks was built in 1898.The Presbyterian Church of Fair Oaks was founded shortly thereafter in 1906. School was started in the grange hall as well, and in 1898 the first school, a one roomer, was built just north of the Methodist Church, and a more elegant one was built downtown in 1902. There was a blacksmith, Fred Kreidewisse, at the corner of Main and Sierra Streets, and others followed soon. A doctor, Robert N. Bramhall from Chicago was persuaded by his father Frank to start his practice in Fair Oaks. An unknown labor contractor brought in crews of Japanese, Chinese, Mexican, and Hindus to do a lot of the heavy land preparation.
Then in late 1898, the Howard-Wilson Publishing Company decided that it had had enough. Land sales were apparently poor. The company was unable to fulfill its promises of adequate water or access to a railroad. So it simply folded up its tent, recalled its superintendent, and ceased to communicate with its colony.
But all was not lost. In a year or so, another company with local roots and previous success in Fair Oaks older sister colony, Orangevale, stepped into the gap with the same motive as Howard-Wilson: profit. The Fair Oaks Development Company thought it could make a go of the colony if it could provide some essential services that Howard- Wilson couldn't or didn't provide. The Fair Oaks Development Company, along with a few increasingly influential Fair Oaks residents, was able to convince Sacramento County to build a bridge across the American River. The company negotiated with the Southern Pacific Railroad to build a rail line from the existing Sacramento-Placerville line to the new Fair Oaks bridge. And then the development company improved the water system by bringing in 28" steel water mains with many laterals. With these improvements Fair Oaks had a chance at life. But unfortunately for the Fair Oaks Development Company, there were few sales and by 1902 the company gave up its efforts.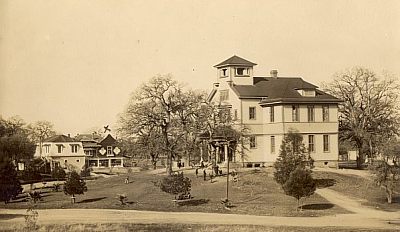 But just about this time, Fair Oaks began to bloom. As mentioned earlier, a real school had been built. A business block with first rate architecture was completed. A lumber yard and other stores were opened. An agricultural cooperative was established. Several first rate homes were built. A bank was started. Dredging for gold in the American River had begun on a major scale. And a rock crushing plant thrived from the tailings of the gold dredges.
Fair Oaks seemed to be holding its own, even thriving well past the turn of the century. Then in 1932 nature dealt the agricultural community a hard blow: a devastating freeze. Not only were many of the orchardists and merchants struggling in the early stages of the Great Depression, but the freeze wiped out many of their dreams of making a commercial success of farming. While a few struggled on, many had to find other things to do. With the improvement of transportation, many could commute to other places to work. The development of air bases in nearby Rancho Cordova and North Highlands, along with the later boom in the aerospace industry, brought in residents of a new breed, many of whom made their livings by working for concerns outside the community.
So Fair Oaks life changed forever. But if one takes a slow walk around town, one can see the vestiges of the orange groves, the olive and almond orchards. Some original buildings hide under several layers of remodeling. A lucky visitor might meet some folks who were born in the 1920s and 1930s and who can tell the tales first hand of what life was like when Fair Oaks was fulfilling its original design.
If you want to know more about Fair Oaks, consider joining the Fair Oaks Historical Society where quarterly we have the best meal in town and a program from which you might be able to learn a little more. And don't forget to visit our museum. Check the home page for more information on both.
---
Copyright © 2005 Steve Abbott, All rights reserved.
---