Fair Oaks Banking and How it Grew
From the San Juan Record, Wednesday, February 28, 1973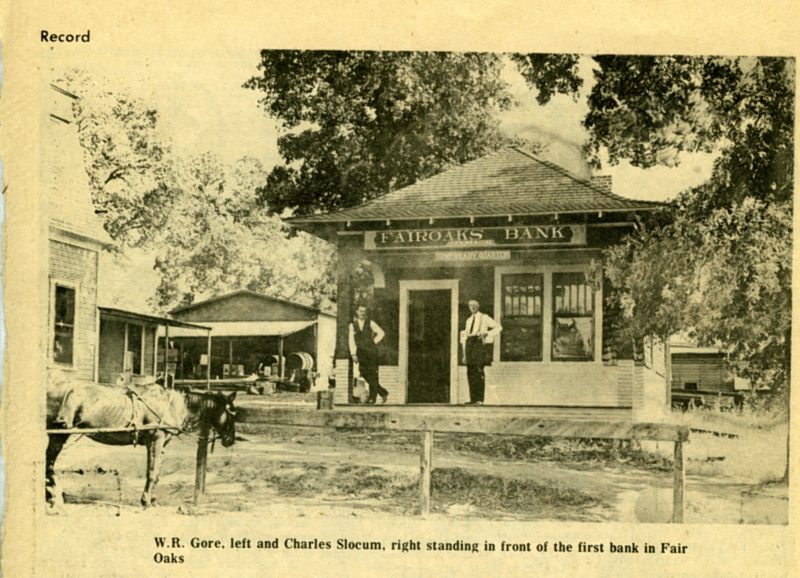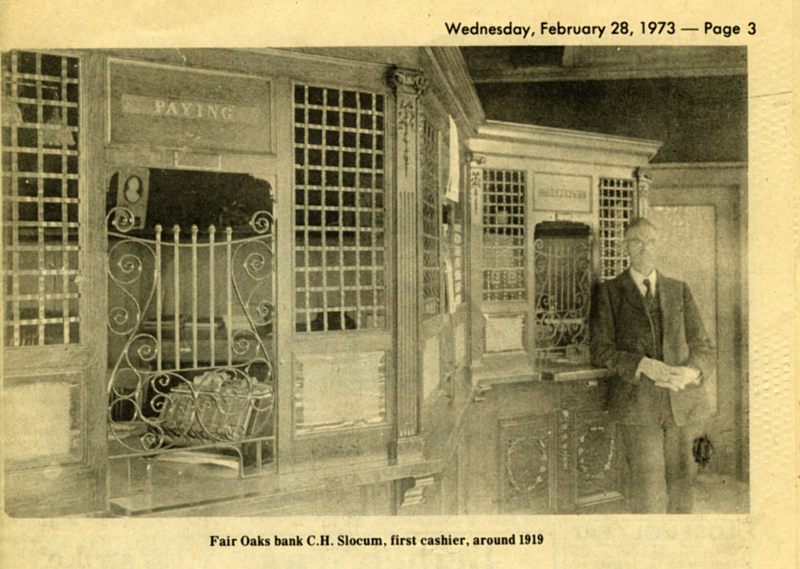 This week J. W. "Bill" Pugh retired as manager of the Fair Oaks branch of the Crocker National Bank. His departure brings to an end a turbulent chapter in the history of banking in the Fair Oaks community. an era which saw the struggling community form its own bank to answer its financial needs. There was success and failure and success again.
Pugh entered the scene in 1950, coming to Fair Oaks from Auburn where he had been assistant cashier of the Placer County Bank, to take over the fledgling National Bank of Fair Oaks. "In the succeeding years, I sat behind the same desk and worked for six different banks," says Pugh.
It all started on June 18, 1909 when a group of local people opened the Fair Oaks Bank which was officially chartered two months previously. The paid up capital was $25,000 divided into shares of $50 each.
A.T. Hodge was president, W. R. Gore, vice- president; C.H. Slocum, cashier; W.W. Hinsey, assis- tant cashier and J.S. Wrangham, secretary. These same gentlemen served as directors. The first bank was located at the site where the present Fair Oaks library is now located on Grand Ave. About two years later a fire destroyed the building.
(Webmaster's note, Dec, 2011) - the temporary bank building, shown above, that burned was located on California Ave. south of Plaza Park, where the real estate office is today)
The bank promptly moved to temporary quarters in the San Juan Hall, the building in which the Fair Oaks Florist and other shops are now located, and was open for business the very next morning.
A new building had already been started and it was completed in 1911 on the corner where the Fair Oaks Irrigation District building is now located. The new building had living quarters upstairs for Slocum who was the manager. One day he was having lunch upstairs when the bank was robbed. He didn't know about it until it was all over.
Banking was a precarious business in those days. In 1933, when President Franklin D. Roosevelt declared the bank holiday, the Fair Oaks Bank closed its doors and did not reopen. Many depositors lost their savings.
For 14 years Fair Oaks had no bank. Carl Stark Opened a pharmacy and soda fountain in the old building and rented out the safety deposit boxes to local citizens. Then, in 1947, Stark and George Kellium were the leaders in starting the Fair Oaks National Bank. The former bank had been a state bank. The new directors hired Charles Motter as manager who came to Fair Oaks from the Pacific Northwest. He was succeeded by Pugh in March, 1950.
By 1952 the bank had outgrown its facilities and the building was torn down and replaced by the one now occupied by the Irrigation District offices. The old vault is stilt located there and is used as a file storage room.
Seeing that competition was coming, the board changed its charter to become a state bank. Along with it, it changed its name to the Suburban Bank. It then opened a branch in Carmichael near Marconi and Fair Oaks Boulevard.
Then, in March, 1955, the Anglo-California National Bank bought out the Suburban Bank. Pugh stayed on as manager in Fair Oaks. The following year Anglo merged with Crocker to create the Crocker Anglo Bank and then later with Citizens to create the Crocker-Citizens Bank. A few years ago the name was changed to the Crocker National Bank, which it is today.
In March, 1959 it moved into its present building at Fair Oaks Boulevard and Howard.
Pugh was born in the small town of Reedly, Calif., near Fresno, which was named after his grandfather who owned considerable property there. He attended school in Dinuba and then went to the University of California at Berkeley where he majored in banking and foreign trade. When he graduated in 1933 at the pit of the depression, there weren't many openings in banks so he went to work for General Petroleum.
Finally, in 1935 he joined the Bank of America in San Francisco in personnel. From there he went to the Fort Bragg branch. He had been there only three months when he met his wife, Dorothy, who was a school teacher, and they were married. He was then transferred to Sutter Creek and then to the Bank of America branch in Martinez in 1940.
In 1943 Pugh attended the graduate school of business in San Jose and the Graduate School of Engineering in Santa Clara. During the latter part of World War II he left banking to work as chief cost accountant for the Joshua Hendy Iron Works in Sunnyvale. In 1945 he was back again in banking, as assistant cashier for the Placer County Bank in Auburn.
During his years in Fair Oaks, Pugh found time to play an active role in the civic life of the community and to pile up a formidable list of honors. He has been president of the Fair Oaks Rotary Club, president of the Fair Oaks Business Men's Association, president of the Fair Oaks Chamber of Commerce as well as treasurer and recording secretary at different times. He was vice-president of the Greater North Area Chamber of Commerce, chairman of the Sacramento City-County Consolidation Committee and served on the Sacramento County Hospital Development Committee. He is currently active in the Fair Oaks District of the Salvation Army, of which he has served as chapter president.
He also garnered recognition in his own field of banking, having served as president of Group I of the California Bankers Association and as president of the Central California Conference of the National Association of Bank Auditors and Controllers.
He has published two books on real estate finance which are in use as college text books and has a contract to turn out another one by January, "After that they want me to do another one," says Pugh.
"I'm not really retiring, I'm just changing my occupation somewhat." His efforts have brought him a listing in the Who's Who in Finance and Industry as well as Who's Who in the West and the Royal Blue Book of England.
He and his wife live in the home they built in 1951 at 3820 San Juan Avenue, They have one grown son, John, who lives in Sacramento, and three grand children.