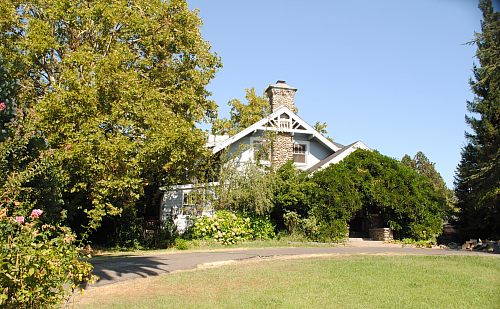 Location: 7745 Sunset Avenue Architecture: Victorian
Previous Owners:
1914-1927: Dr. George Bell
1927-1945: John and Dora Haase
1945 – 1955 Earl and Margaret Ricketts
1955 – 1969 Robert and Mary Jakotich
1970 – 2003 ???
2003 – 2010 Mary Stember
This Victorian home on Sunset Avenue is currently looking for a new owner to bring it back to its former glory. Currently it is listed for sale by realtor Shale Levine from the Lyons Real Estate Fair Oaks office. He contacted Jim Pearce to see what information the Historical Society might have on the property providing us the opportunity to go through the home and write this article.
In touring the home you see evidence of original hardwood floors (some with mahogany inlays), mahogany cabinets and shelves, leaded glass, and a claw foot bathtub. The downstairs has a large living room, dining room, entryway, workroom and 1/2 bath which all show the quality workmanship that went into the original building. A kitchen expansion, den, family room, and bathroom were added sometime in the late 1950s. Upstairs there are four large bedrooms and two full baths. The house has heat and air, but the radiators remain in place. There is also a partially finished basement. In spite the passage of time, there is enough of the original décor in place to provide a new homeowner the chance to recreate the home in the 1914 vision.
The home was originally built for Dr. George Bell, a general practice physician who lived in Fair Oaks in 1911 – 1920. Dr. Bell died in Sacramento in 1928.
John and Dora Haase purchased the home from Dr. Bell in 1927. They were a young married couple at the time and worked their fruit orchards. Mr. Haase served on the boards for the Fair Oaks Irrigation District and Fair Oaks Fruit Company. Following the freeze of 1933 they switched to dairy farming. Mrs. Haase sold the property in 1945 after her husband's death in 1943. She remained in Fair Oaks until her death in 1979.
Earl and Margaret Ricketts originally lived across the street from Raleys on San Juan where they had almond orchards. In 1945 they purchased the home from Mrs. Haase. They had six children but the older children were already out of the home when they moved in. Their daughter, Evelyn Ricketts Heim, currently lives in Folsom and is a member of the Fair Oaks Woman's Thursday Club. Her sister Marguerite Ricketts Allott was married in the Sunset Avenue home and currently lives in Fair Oaks.
Dr. Jakotich and his family lived in this home sometime in the 1950s and 1960s. Mrs. Heim reported that her family sold the home in 1955. The Jakotich family purchased the Victorian at 7789 Sunset which was written about in the April, 2010 newsletter. He was the vet at the Sunset Pet Hospital during this time. It is unclear who lived in the home until 2003 when Mary Stember purchased it. If anyone has more information let us know and we can add to the records. While there is a lot of work to be done, a restoration will ensure that another Fair Oaks historical home will be around for future generations to enjoy.
---