| | |
| --- | --- |
| About 1915 | Today |
Location: 4047 Smallwood Lane
Presently the purple Rogers-Stowell House
Builder and First Owner: Samuel Green, uncle of Sim Green
Year built: before 1899
Present Owner: Tempe (Temperance) Weinreich
who lives at 4044 Central Avenue.
Architecture: A Gable-Front-and-Wing Family Folk House
Tempe came to live in the house on Smallwood Lane at the age of 2 in 1928 with her father, William C. Smallwood, her mother, Eunice, her sister and brother. Her father worked the gold dredges and died the following year. Her mother bought the house, including 3 lots, for $1500. She paid the bill for water taxes that the Greens had left and finished paying for the properties in 1941. She was a hard worker in hard times who took in boarders, cleaned homes for a $1.00 a day and worked at the olive plant. She later married Mr. Phipps and lived there until her passing in 1973. Tempe lived in the house until she married at age 19 to an Air Force soldier who died stateside. She returned to the family home at age 22 with a child and has lived on the property since. Her current home which she shares with her daughter, Sandy, was built over time on Central. The three structures on Smallwood remain rentals.
The Smallwood house was built of redwood and while seeming "old" during her growing up, it was sturdy and "never had a termite." It got the name "Rogers-Stowell House"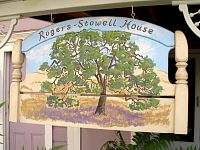 for the handyman who helped with cosmetic and other repairs and for Sandy's grandmother's maiden name, Stowell. The house has two levels that include a front room, kitchen and pantry, 2 bedrooms and a bathroom on top with 4 rooms downstairs and l bathroom. There is a "small" blue house nearby that was said to house some local Chinese servants who shared a bathroom with the 2 rentals underneath the main floor.
Tempe inherited the properties and her daughters assist with the management. Having lived in Fair Oaks, she remembers the very rural feeling of homes spaced a distance from one another, dirt roads and how the community all knew one another. Her brother, W.C. Smallwood, died in WWII and the lane was named in honor of him.