| | |
| --- | --- |
| | |
| Tempelton home in 1957 | and in 2009 |
Location: 8464 Sunset Avenue
Architecture: Farmhouse
Built: 1898
Previous Owners:
Henry Becki,1900, Rancher, 200 acres
Twannette Parker, 1910; J.T. Templeton, 1920; both absentee investors
Everett Glafcke, 1921 - 1952, owner-operator of 23 acres raised turkeys
&nbsp &nbsp and chickens until 1952, named the home "Mira Robles". There is a nice article
&nbsp &nbsp on life on the farm by Mrs. Glafcke in the Fair Oaks and San Juan Memories book
&nbsp &nbsp (online on the FOHS website).
Thomas Turnbull, Jr., 1953, probably sold to Mrs. Grace Irving who named it "Lake Haven".
Present Owners: Diane and Ken Templeton (not related to former owner) bought the home in 1987, did a major remodel and moved in Feb. '88. It is .87 acres that originally came with a persimmon and almond tree plus 3 palm trees. They've just celebrated 21 years in the home on Sunset Avenue. You have no doubt passed the house when driving to Miller Park and remember the outstanding annual Christmas decorations which won the Jeanne and Dick Hill Award...back when!
The Templeton's kept the same basic floor plan and saved the front porch, stairs, and door, but made the home bigger. The exterior looks 1898, but the interior is contemporary. They added 2 front bedrooms, enlarged the kitchen and living room which has a "hand-made" river rock fireplace and mantle. Upstairs had 3 bedrooms plus bath and now is one master-bedroom suite. In the re-do, they found much of the old wood, wiring and the walls stuffed with 1950's newspapers for insulation.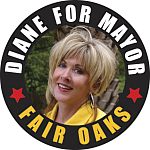 We contacted Diane to do this story last spring. She looked forward to having more information about the history of the home. She sells Jaffra products. She is presently running for Fair Oaks Honorary Mayor. We thank them for the interview and welcome Ken and Diane to our next General Meeting on July 28.