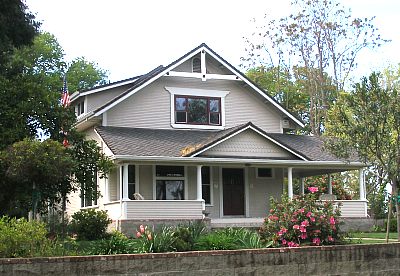 Location: 4065 Ridge Street, Fair Oaks
Date of Construction: After 1910
Architecture: Craftsman-Prarie eclectic
Previous Owners: Addison Gilmore - 1900 - 1930+
Kate Woodward - After 1930 - ?
Don and Jackque Martin ( ? -'97)
Jeff Jacque and Helen Shunk ('97-'99)

Present Owners: Deborah and Bill Brown
Addison Gilmore and his brother Vernon, with their families, came to Fair Oaks from Minnesota in the early 1900's. Land records show that Addison Gilmore owned the property in 1910 when the house was built. Joe Broadley is presumed to have been the builder. Addison, by census records, moved into the house after 1920 so he probably rented it out for a number of years. Addison is shown in the 1930 census living in the house with Kate Woodward next door. Kate owned the property next with an interim of renters.
The current owners, Deborah and Bill Brown, both agree that each former owner has given their heart and $ to improve the home and property. Don and Jackque Martin added the family room to the back of the house, a detatched garage and paved driveway and an inside entrance to the basement. The Browns have added footage to enlarge their breakfast nook and enlarge/update their kitchen. They landscaped the 1/2 acre and were on one of the Fair Oaks Bluff fundraising garden tours. They have focused on keeping the home in the tradition to the time it was built. The front of the home is close to the original except for the shape of the pillars.
It is currently a 2 bedroom home with den, 3 bath, living room (parlor), dining room, family room with a porch front and back. There is a full basement for utilties and exercise! A next project is remodeling the Master Bathroom.
Jeff Jacque and Helen Shunk owned the property for less than 2 years and lived in it only a short time. Bill was looking for a Fair Oaks residence to be closer to their business, and one day left a business card in the doorway of the unoccupied house. That resulted in a contact, and ultimately the couples closed the deal in 1999 on a napkin at Carmelita's restaurant.
Story One: A Fair Oaks Irrigation employee and wife rented the upstairs and said it was the "best 5 years of their marriage."
Story Two: A group of "bikers" rented the house and had "wild parties." The place looked "seedy." The bikers parked their Harleys in the basement and took off up the driveway with gusto to the annoyance of neighbors. One day one of the bikers didn't make the turn at the top of the driveway and ended up across the street in the neighbors front bushes.
Deborah and Bill are owners of Bella Fiore, Inc., florest and event specialists in our village at 10239 Fair Oaks Blvd. They share our interest and care for the Fair Oaks Community. Bill is a third generation resident of Fair Oaks (both he and his father were in the Fair Oaks Fire Department) and Deborah was raised in Roseville. Thank you for a great interview!