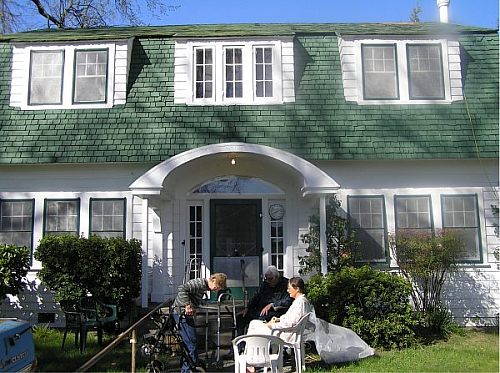 Location: 8571 Sunset Ave.
Date of Picture: 03/10/05, Date of Construction: 1928

Previous Owners: Horace and Elizabeth Massey (Bob's Parents)
Present Owners: Bob and Beryl Massey
Architecture: Colonial
Comments: Farmer Bob's home is a familiar sight while driving on Sunset Avenue. It has 4 bedrooms, 2 baths, living and dining rooms, a breakfast nook plus back porch. Above ground it is 2400 sq. ft. with a full basement. In the near future his produce/firewood business will be replaced with several upscale homes. He and Beryl will continue to live in their home!
Bob's parents bought the property as an orange grove in 1910. The elms in the yard were planted at that time. They lived in the "pioneer" home on the property until the new home was built when Bob was 7 years old. Bob and Art Broadley built the home. Murray, another brother, was the plumber. The old home was torn down.
In and beyond the World War II years, Bob and Beryl lived in another Fair Oaks home.
When Bob's parents passed away in the 70's, Bob and his wife bought his sister's interest in the house. They raised their daughters, Janice and Susan in the home. The sign at Farmer Bob's says established in 1975 for local produce and the best wagon rides before Halloween.